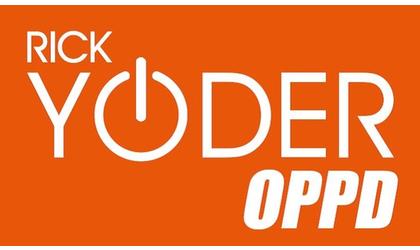 (KLZA)-- Rick Yoder, candidate for the Omaha Public Power District Board of Directors made a campaign stop in Falls City last week.
Yoder is attempting to unseat longtime incumbent Fred Ulrich.
During the primary in May, Yoder touted the closing of the Fort Calhoun Nuclear Power Plant. That decision has now been made to close the plant, but Yoder says it took too long to make the decision. Yoder says it did not make sense to keep the nuclear plant open that long.
Yoder, who lives in Murray, Nebraska says he feels Ulrich's loyalties lie in the wrong area, noting OPPD had never had a layoff until the Fort Calhoun shutdown. Yoder feels his opponents loyalties lie with the people who worked there and the management, rather than to the ratepayers.
Yoder also noted he feels administrative pay raises approve by the OPPD Board in August were excessive. Yoder noted his presence at the August Board meeting and saying the 4.5 percent pay raise for the CEO was too much. He notes low corn prices, the flat consumer price index which means no increase in social security benefits and low interest rates as reasons not to increase administrative costs for OPPD.
District IV includes Richardson, Pawnee, Nemaha, Johnson, Gage, Cass and a large part of Sarpy counties in Southeast Nebraska.