68 Area Athletes Compete in Highland CC All-Star Games
04/02/2012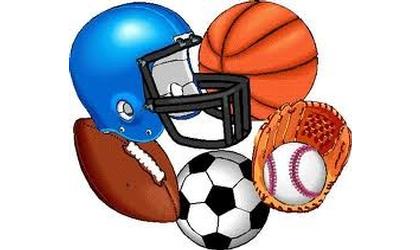 It was the 10th annual year for the Highland Community College volleyball All-Star game and 26th annual basketball All-Star games. Sixty-eight area senior athletes competed in the action at Highland.
In the volleyball matchup it was dominated by the Navy team as they won all four sets that were played between them and the gold team (25-14 set 1; 25-20 set 2; 25-14 set 3 and 15-13 set 4). In the victory the Navy squad who was coached by Theresa Watkins of Holton, it was a few players standing out with a handful of kills each. Perry-Lecompton's, Sierra Morgison finished the match with six kills and one block, while Horton's, Ashley Dishon and Oskaloosa's, Rachel Schmanke each tallied five kills, apiece. Holton Wildcat, Christa Hill also had a solid performance overall with three kills, 10 assists, one block and four aces.
For the Gold team they saw two players standout with their total kill amounts in the matchup, as Holton's, Kylie Miller and Oskaloosa's, Haley Pfau tallied 10 and nine kills, respectively in the All-Star game. Miller also finished with two aces and one block, while Pfau added one block and one ace, to her day's stats, also. Centralia Panther, Michelle Haug and Hiawatha Red Hawk, Courtney Brennan each notched two kills, also for the Gold team.
After the volleyball action it was time for some girls basketball and it would be the Navy team once more dominating and notching the victory over the Gold team. The basketball matchup featured players from five different leagues in the northeast Kansas area. The Navy squad took early control of the game as they got out to a 13-0 lead and never looked back to sail to a 77-57 victory in the 26th annual Highland CC girl's basketball game. Navy team was coached by Holton coach, Jon Holliday who improved to 2-0 in All-Star games this season, while the Gold team was coached by Tim Barber of Highland Park, who is in his first season as coach at Highland Park.
The Navy team was lead on the day in scoring by Jefferson County North Charger all-time school leading scorer, Jordan Kramer who finished the day with 21 points. Two other players finished with double figures for the Navy team, they were Holton's, Jayna Smith and Topeka high school's, Krystal Crohn, who tallied 17 and 12 points, respectively. To go along with those three ladies four other players for the Navy team: Haley Pfau (Oskaloosa) 9 points, Brittany Simek (Immaculata) 8 points, Shayla Whitebird (Horton) 6 points and Kate Brickell (Jefferson County North) 4 points.
For the Gold team, they fought hard throughout the game but just could ultimately get back from the hole they found themselves in at the start of the game. They were lead in scoring by ACCHS senior, Tara Ellerman, as she finished the contest with 12 points; the lone player in double figures for the Gold team. Nine other players did score for the Gold team in the All-Star matchup: Devyn Edwards (Highland Park) 9 points, McKayla Brezina (Nemaha Valley) 9 points, Meggie Hall (Sabetha) 7 points, Nichole Boden (Wetmore) 6 points, Taylor Smith (Riverside) 4 points, Marija Crockett (Maur-Hill Mt. Academy) 4 points, Vanessa Burdiek (Centralia) 3 points, Michelle Haug (Centralia) 2 points and Maggie Leonard (Marysville) 1 point.
While the first two All-Star matchup's went to the Navy team it would be the Gold team who notched the victory in the boys basketball game. The Gold team found themselves down by 11 points at the half 71-59, but ultimately made the comeback in the second half to win by double figures with a final score of 133-118. The Gold team was coached by Maur-Hill Mt. Academies assistant coach, Sterling Jackson, while the Navy team was coached by Onaga head coach, Luke Baxter.
Almost every player who particapated in the boys All-Star got themselves in the scorers in book. The high scoring honors for the day go to Valley Falls Dragon, Brock Watson who tallied 22 points in the loss for the Navy team, while Jefferson County North Charger, Dalton Minor and ACCHS Tiger, Austin Eckert each notched 19 points to lead the way for the Gold team.
Five other players joined Minor and Eckert in double digits for the Gold team on the day, those being: John Lawless (Maur-Hill Mt. Academy) 13 points, TJ Kocour (Maur-Hill Mt. Academy) 11 points, Alex Dahl (Santa Fe Trail), Josh Merz (Horton) and Jonathan Keating each finished with 10 points apiece.
The rest of the scoring for the Gold team consisted of: Brandon Heim (Pleasant Ridge) 9 points, Jonathan Denton (Perry-Lecompton) 8 points, Adam Sewell (Immaculata) 7 points, Troy Matson (Sabetha) 6 points, Cody Duryea (Jackson Heights) 5 points, Dylan Norris (Troy) 4 points, and Mitch Kurtz (ACCHS) 2 points.
The Navy team saw five other players in double figures outside of Watson, also on the day, those being: Alex Hermesch (Nemaha Valley) 17 points, Riley Falk (Onaga), Jacob Tanking (Holton) 13 points, Jacob Broxterman (Frankfort) and Derek Henry (Wetmore) both with 12 points.
The rest of the scoring for the Navy team consisted of: Cale Green (Marysville) 8 points, Michael Glatzcak (Centralia) and Tyler Herrs (Linn) both with 5 points, Mitchell Walter (Washington County) 4 points and Derek Nold (Riverside), Kooper Winterscheidt (Hiawatha) and Patrick Griffitts each finished with 2 points.
Overall 68 area senior athletes competed in the All-Star matchups enjoying themselves in the games that they love. Below is list of each player for each sport and their future plans.
2012 Highland CC All-Star Volleyball Participants
Player
School
Future Plans
Other Notes
Courtney Brennan
Hiawatha
Attend KSU and major in Secondary Education
Recorded 2 kills in All-Star game
Caitlin Deters
B&B
Attend KSU and major in medical field

2nd Team 1A-DII; 1st Team TVL (2011)

B&B won Class
1A-DII state title (2011)

McKayla Brezina
Nemaha Valley

Attend Highland CC to play volleyball and major in Graphic Design

HM Class 3A; HM Big 7

325 kills, 94 blocks, 43 aces (senior year)

Ashley Dishon
Horton

Attend Highland CC to play volleyball and major in Elementary Education

1st Team DVL (North)

224 kills, passed 90% (senior year)

Recorded 5 kills, 1 ace in All-Star game

Vanessa Burdiek
Centralia
Attend KSU and major in Elementary/Special
Education

1st Team Class
1A-DII; 1st Team TVL

2nd place at state Class 1A-DI (2011)

Courtney Galley
Olathe North

Attend Highland CC to play volleyball and major in Nursing

143 kills, 49 aces, 144 digs (senior yr)
Rachel Christie
Valley Heights
Attend KSU and major in Chemistry
158 digs, 30 kills, 500 assists, 32 aces (senior year)
Michell Haug
Centralia
Attend KSU and major is undecided

1st Team Class 1A-DI; 1st Team TVL

2nd place at state Class 1A-DI (2011)

Recorded 2 kills in All-Star game

Kristin Haverkamp
Bern
Attend KSU and major in Digital Art

2nd Team TVL


98 kills, 39 aces, 605 assists (senior year)

Kylie Miller
Holton
Attend Washburn University to play
volleyball and major in Pre-Med

2nd Team Clasds 4A; 1st Team Big 7

Team made 4A state tournament

Recorded 10 kills, 2 ac, 1 block in All-Star game

Emma-Leigh Herrs
Doniphan West
Undecided
2nd Team DVL (North)
Sierra Morgison
Perry-Lecompton
Attend Highland CC to play volleyball and major in Nursing
Recorded 6 kills and 1 block in All-Star game
Christia Hill
Holton
Attend Highland CC to play volleyball and major
in Physical Therapy

1st Team Big 7

Team made 4A state tournament

Recorded 3 kills, 10 assists, 1 block, 4 aces in All-Star game

Haley Pfau
Oskaloosa
Attend Washburn University to play basketball

2nd Team Class 2A; 1st Team DVL (South)

Team made 2A state tournament

Recorded 9 kills, 1 block, 1 ace in All-Star game

Abby Meyer
Sabetha
Attend KSU and major in Sales and Marketing
HM Big 7
Veroncia Pitchford
Manhattan
Attend Highland CC to play volleyball and major in Physical Education/Special Education
87 kills, 87 blocks, 29 digs S(senior year)
Blair Russell
Marysville
Attend Tyler CC in Tyler, TX to play volleyball and major in Photography/Graphic Design

1st Team Class 3A; 1st Team NCK

315 digs, 56 blocks, 40 assists (senior year)

Taylor Smith
Riverside
College is undecided, major in Pre-Med
Rachel Schmanke
Oskaloosa
Attend Highland CC to play volleyball and major in Criminal Justice/Counseling

2nd Team DVL (South)

Recorded 5 kills, 1 block in All-Star game

Marissa Weaver
Linn
Attend KSU and major in Agricultural Education
231 assists, 120 digs, 33 kills, 19 aces (senior year)
Julia Shoemaker
Holton
Attend Kansas Wesleyan to play volleyball
and major in Nursing

HM Class 4A; HM Big 7

Team made 4A state tournament

Melissa Ebling
Atchison
Attend University of Kansas and major is undecided
1st Team KCK
2012 Highland CC Girls Basketbal All-Star Participants
Player
School
Future Plans
Other Notes
Micaella Beikmann
Hanover
Attend Cloud County CC, major is undecided

2nd Team TVL

9.7ppg, 3.1rpg, 2.7apg (this yr)

Kate Brickell
Jeff Co. North
undecided

HM Class 2A; 2nd Team DVL

6.8ppg, 5.1apg, 2.3rpg (this yr)

4 points in All-Star game

Class 2A State Champion

Nichole Boden
Wetmore
Attend Ottawa University to play basketball and
major in Exercise Science

2nd Team Class 1A; 1st Team TVL

12ppg, 4rpg, 3spg (this yr)

6 points in All-Star game

4th place in Class 1A-DII State tournament

Vanessa Burdiek
Centralia
Attend KSU and major in Elementary Education

HM Class 1A; 1st Team TVL

9.3ppg, 3.6rpg (this yr)

3 points in All-Star game

Team made Class 1A-DI State tournament

Ryann Bowser
Holton

Attend Highland CC to play basketball and major
in Nursing

2nd Team Class 4A; 1st Team Big 7

7.9ppg, 3.2rpg, 2.8apg (this yr)

2nd place in Class 4A State tournament

Krystal Corhn
Topeka HS
Attend Highland CC to play basketball, major in
Criminal Justice

All Defensive Team Centennial league

7.8ppg, 4.1rpg, 2apg, 2.7spg (this yr)

12 points in All-Star game

McKayla Brezina
Nemaha Valley
Attend Highland CC to play volleyball and major
in Graphic Design

3rd Team Class 3A; 1st Team Big 7

14.2ppg, 5.5rpg (this yr)

9 points in All-Star game

Marija Crockett
MH-MA
Attend Benedictine College and major in Biology

2nd Team DVL

10.4ppg, 6.6rpg, 1.7spg (this yr)

4 points in All-Star game

Devyn Edwards
Highland Park
undecided, major in Business Management

HM Class 5A; 2nd Team Centennial

9 points in All-Star game

Team made Class 5A State tournament

Michelle Haug
Centralia
Attend KSU and major in undecided

3rd Team Class 1A; 1st Team TVL

14ppg, 6 rpg (this yr)

2 points in All-Star game

Team made Class 1A-DI State tournament

Tara Ellerman
ACCHS
undecided

1st Team Class 3A; 1st Team DVL

12.1ppg, 5.5rpg, 1.2apg (this yr)

4th place in Class 3A State tournament

Kristin Haverkamp
Bern
Attend KSU and major in Digital Art

HM Class 1A; 2nd Team TVL

12.4ppg, 7.4rpg, 2.9apg (this yr)

Jacqueline Frey
Sabetha
Attend University of Kansas and major in Human
Biology/Pre-Med

1st Team Big 7

8.2ppg, 2.4rpg, 2.1apg (this yr)

Jordan Kramer
Jeff Co. North
Attend Washburn to play basketball and major in
Bio Chemistry

1st Team Class 1A; 1st Team DVL

22ppg, 5.8rpg, 3.4apg (this yr)

All-time leading scorer in JCN history (1,852pts)

21 points in All-Star game

Class 2A State Champion

Meggie Hall
Sabetha
Attend KSU and major in Dietetics

HM Big 7

8.6ppg, 2.7rpg, 2.7apg (this yr)

7 points in All-Star game

Maggie Leonard
Marysville
undecided

HM NCK

9.9ppg, 4.3rpg, 2.2apg (this yr)

1 point in All-Star game

Haley Pfau
Oskaloosa
Attend Washburn to play basketball

2nd Team Class 2A; 1st Team DVL

19.8ppg, 5.3rpg, 2.1apg (this yr)

9 points in All-Star game

Taylor Smith
Riverside
undecided
Brittany Simek
Immaculata
Attend University of Kansas to be on the rowing
team and major in Film and Media Studies

HM Class 2A; 1st Team DVL

16.4ppg, 4.9rpg, 1.8spg (this yr)

8 points in All-Star game

Liz Todd
Immaculata
Attend Baker University to play soccer and track
and major in Nursing

1st Team DVL

12.4ppg, 6.7rpg, 4.5apg (this yr)

Jayna Smith
Holton
undecided, major in Nursing

2nd Team Class 4A; 1st Team Big 7

11.5ppg, 3.8rpg, 1.9apg (this yr)

17 points in All-Star game

2nd place in Class 4A State tournament

Shayla Whitebird
Horton
Attend Butler CC to play basketball and major in
Pharmacy
13ppg, 8rpg, 75% FT (in 8 games)
2012 Highland CC Boys Basketball All-Star Participants
Player
School
Future Plans
Other Notes
Jacob Broxterman
Frankfort
Attend Highland CC and major in Education

1st Team Class 1A; 1st Team TVL

19ppg, 10rpg (this yr)

12 points in All-Star game

Class 1A-DII State Champion

Riley Falk
Onaga
undecided, major in Accounting

1st Team Class 2A; 1st Team TVL

23.3ppg,11.8rpg (this yr)

16 points in All-Star game

Alex Dahl
Santa Fe Trail
undecided

HM Class 4A; 1st Team Big 7

14.9ppg, 3.85rpg, 1.6apg (this yr)

10 points in All-Star game

Michael Glatczak
Centralia
Attend Butler CC to play football, major is
undecided

1st Team Class 1A; 1st Team TVL

16.4ppg, 3.4rpg, 4spg (this yr)

5 points in All-Star game

Team made Class 1A-DI State tournament

Jonathan Denton
Perry-Lecompton

Attend Coffeyville CC to play football and major
in electrical field

HM Class 4A; 1st TM Big 7

14ppg, 7rpg, 1.5bpg (this yr)

8 points in All-Star game

Caleb Green
Marysville
Attend Bethany College to play football and track
and major in Physical Education

HM Class 3A; 1st Team NCK

15.2ppg, 3.9rpg, 2.9 apg (this yr)

8 points in All-Star game

Cody Duryea
Jackson Heights
Attend Barton CC and major in Athletic Training

HM Class 2A; 2nd Team DVL

11.3ppg, 5.2rpg, 1.7spg (this yr)

5 points in All-Star game

Patrick Griffitts
Oskaloosa
Attend Allen CC and major in Criminal Justice

4.6ppg, 2.1rpg (this yr)

2 points in All-Star game

Austin Eckert
ACCHS
undecided, major in Education

1st Team Class 3A; 1st Team DVL

21.4ppg, 4.4.rpg, 3.3apg (this yr)

19 points in All-Star game

Brandon Heim
Pleasant Ridge
Attend University of Saint Mary to play soccer and
major in Pre-Physical Therapy

HM Class 3A; HM DVL

6.8ppg, 1.8rpg, 5.8apg (this yr)

9 points in All-Star game

Derek Henry
Wetmore
undecided

3rd Team Class 1A; 1st Team TVL

17.5ppg, 14rpg (this yr)

12 points in All-Star game

Isaac Kreuer
Metro Academy
undecided
19.7ppg, 12.3rpg, 2.6bpg (this yr)
Alex Hermesch
Nemaha Valley
Attend Kansas University and major in Chemical
Enginerring

1st Team Class 3A; 1st Team Big 7

12.4ppg, 2.8rpg, 4apg (this yr)

17 points in All-Star game

State runner-up in Class 3A

Mitchell Kurtz
ACCHS
undecided, major in Sports Management

2nd Team DVL

8.7ppg, 3.1apg, 2.8rpg (this yr)

2 points in All-Star game

Tyler Herrs
Linn
Attend KSU and major in Agronomy

3rd Team Class 1A; 1st Tam TVL

16.8ppg, 1.3spg (this yr)

5 points in All-Star game

John Lawless
MH-MA
Attend Rockhurst University and major in
Physical Therapy

HM Class 3A; 1st Team DVL

10.6ppg, 8.2rpg, 1.9apg (this yr)

13 points in All-Star game

Jonathan Keating
Frankfort
Attend Highland CC to play football, major is
undecided

HM Class 1A; 2nd Team TVL

10ppg, 10.4rpg (this year)

Class 1A-DII State Champion

Zak Marten
Onaga
Attend KSU, major undecided
5.7ppg, 1.7apg, 36% 3pters (this yr)
T.J. Kocour
MH-MA
Attend KSU, major undecided

HM Class 3A; 1st Team DVL

16.3ppg, 7.1rpg, 2.9spg (this yr)

11 points in All-Star game

Troy Matson
Sabetha
Attend Mid-America Nazaren University and
major in Criminal Justice

1st Team Class 3A; 1st Team Big 7

16ppg (this yr)

6 points in All-Star game

Josh Merz
Horton
Attend Highland CC and major in Ag Tech Management

HM Class 3A; 2nd Team DVL

16.6ppg, 11.4rpg, 2.9bpg (this yr)

10 points in All-Star game

Jacob Tanking
Holton
Attend Cloud County CC and major in Psychology

HM Big 7

7.2ppg, 1.7rpg, 1spg (this yr)

13 points in All-Star game

Dalton Minor
Jeff Co. North
Attend KSU, major undecided

2nd Team Class 2A;p 1st Team DVL

12.4ppg, 7rpg, 1.9apg (this yr)

19 points in All-Star game

Team made Class 2A State tournament

Mitchell Walter
Washington Co.
undecided

3rd Team Class 2A; 2nd Team TVL

11+ 18+pt games (this yr)

4 points in All-Star game

Derek Nold
Riverside
undecided

HM Class 3A; HM DVL

9.4ppg, 9.7rpg, 3bpg (this yr)

2 points in All-Star game

Brock Watson
Valley Falls

Attend Kansas University and major in Physical
Therapy

1st Team DVL

9.7ppg, 5.2apg (this yr)

22 points in All-Star game

Dylan Norris
Troy
Attend Highland CC, major undecided

7.3ppg, 7.9rpg, 3.3apg, 2.3spg (this yr)

4 points in All-Star game

Blaine Wilson
Riverside
Attend Butler CC, major is undecided

HM Class 3A; 2nd Team DVL

15.8ppg, 4.1rpg, 1.4apg (this yr)

Adam Sewell
Immaculata
undecided

HM Class 3A; 2nd Team DVL

7 points in All-Star game

Kooper Winterscheidt
Hiawatha
undecided

HM Class 4A; 1st Team Big 7

2 points in All-Star game
You will need to be logged in to leave a comment.
Please Login The posting of advertisements, profanity, or personal attacks is prohibited.
Click here to review our Terms of Use.