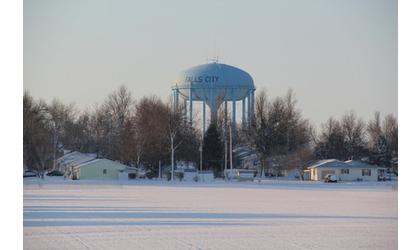 Falls City Water Tower
(KLZA)-- Falls City Council members denied a request to park a semi-truck and trailer on the street at 817 Stone Street when they met Monday evening.
Pat Beer made the request to park his rig on the street.
A city ordinance provides truck routes in the city, but parking of semis and trailers is not allowed.
Police Chief Duane Armbruster said the ordinance helps protect curbs and the streets in addition to helping avoid traffic congestion.
The Council felt approving the request would set a precedent leading to others to make the same request.
Permission for the Falls City Police Department to use Stanton Lake Park for the National Night Out Against Crime on August 4 was approved. A request for free swimming at the Aquatic Park as part of the event was also approved.
The Council approved changing the dates of two Council meeting. Due to Presidents Day, the Council will meet Tuesday, February 18 and because of Labor Day the Council will meet Wednesday, September 9.