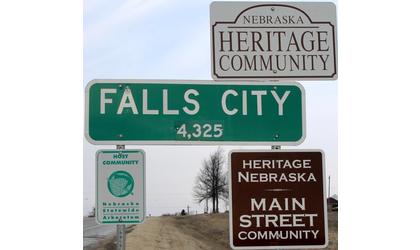 (KLZA)-- The Falls City Council heard updated on a couple of Park Department topics when they met Monday evening.
There have been a couple of issues at the Falls City Aquatic Park this summer. No heat and a broken slide. City Administrator Gary Jorn says both issues are receiving attention, the boiler is repaired but the controls require some fine tuning and the slide has been sent to Omaha to be repaired.
On Flag Day, new flags were raised at the new Veterans Memorial at Legion Park on East 21st Street. The Color Guard from the Falls City Legion Post raised the flags.
Council member Don Ferguson who was instrumental in getting the project completed praised all those that helped, especially Parks Department employees Mike Huppert and Randy Miller. Ferguson said when the final touches are put on the project a dedication ceremony will be held.
The Council also approved a request to use Stanton Lake Park and Candlelight Cabin for the Nebraska National Guard 43rd Army Band performance on Tuesday, June 25 beginning at 7:00 p.m.