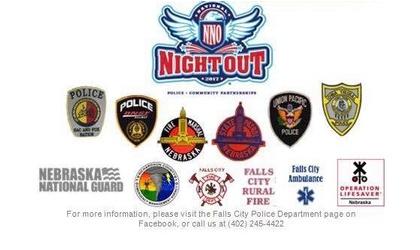 (KLZA)-- The 2nd Annual Falls City Police Department National Night Out is scheduled for Tuesday, August 1 at the Falls City Aquatic Center.
Last years event was an award winner, named as one of six Rookie of the Year Award Winners in the nation. Falls City Police Officer Zach Ractliffe, said during an appearance on the Community Focus Program he has high hopes for year two of the event, noting he would like to win an award for communities with a population under 5,000.
The National Night Out event will be 6:00 – 8:00 p.m. and there will be free hotdogs and demonstrations on public safety and health along with games, prizes, a dunk tank and more.
Ractliffe says it's important for the public, adults and children to get to know local law enforcement officers and first responders.
Several agencies will be represented during the evening with a large number of displays planned. Among the displays will be a crash simulator, an impaired / distracted driving simulator and many more.
Office Ractliffe says he is looking forward to some of the new displays this year, including the Falls City Rural Fire Departments new grass fire truck, the Nebraska State Patrol helicopter and the Nebraska National Guard will bring a number of vehicles.
From 8:00 – 10:00 p.m. there will be free swimming for all ages at the Falls City Aquatic Center.
For information, of if you would like to help with the event contact the Falls City Police Department at 402-245-4422. You can also visit the Falls City Police Department Facebook page.