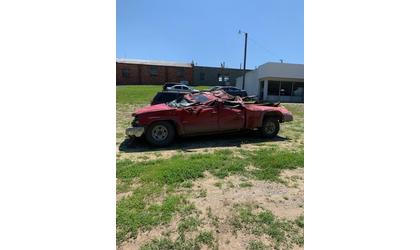 (KLZA)-- A rural Falls City man is facing several charges after he fled the scene following a Wednesday night crash after the Falls City Police Department attempted to make a traffic stop.
The Falls City Police Department reports officer Zach Ractliffe attempted to stop a southbound pickup on Fulton Street at approximately 11 o'clock. The pickup driver continued south in an attempt to elude law enforcement and allegedly was traveling at speeds over 40 miles per hour on the city street.
The driver continued south, crossed the railroad tracks south of 4th and Fulton. A short distance later the driver lost control of the pickup. The pickup traveled into the northbound lane and left the roadway on the east side of the road, went into a ditch, hit a culvert at a high rate of speed, causing the pickup to overturn going end over end.
The pickup came to rest on its top and the driver crawled out and fled the scene.
On Thursday, 22-year-old Bailey Witt, turned himself into the Falls City Police Department.
Witt was cited for driving while suspended, fleeing to avoid arrest, speeding, stop sign violation and failure to signal.