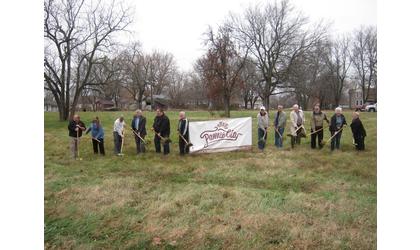 Groundbreaking
(KLZA)--Ground was broken Tuesday for a new $3.5 million assisted living facility in Pawnee City.
The 14,700 square foot structure will offer 22 resident units of assisted living with licensing for 24 beds.
USDA Rural Development is providing nearly $3.2 million to the City of Pawnee City in loans and a grant. The Pawnee City Development Corporation will provide $200,000 and nearly $123,000 has been donated towards the project.
A $2.9 million Rural Development loan will be repaid over 40 years and a $147,500 loan will be repaid over two years. A grant of more than $102,000 was also provided.
Pawnee City Mayor Charlie Hatfield called the project a great asset for the community.
USDA Rural Development Community Programs Specialist Janice Stopak told those gathered for the ceremony, the project will create 10 jobs in Pawnee City. She noted that interested parties have already voiced their desire to live in the facility.