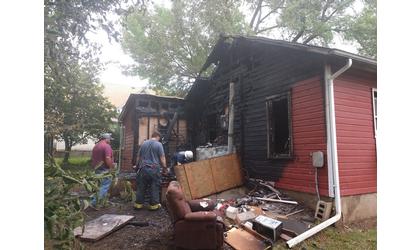 2417 Abbott Street
(KLZA)-- There were no injuries reported in an early morning house fire in Falls City Thursday.
According to Falls City Volunteer Fire Department Information Officer Jon McQueen, fire fighters were called to 2417 Abbott Street at 5:10 A.M. The house was fully involved when fire fighters arrived on the scene. The only reported occupant of the home was able to get out safely.
Members of the Falls City Rural Fire Department, The Falls City Volunteer Ambulance Squad and Falls City Police Department also responded to the call. The State Fire Marshall's office is investigating the cause of the fire.
The rental house, owned by Steve and Angela Simon suffered major damage.