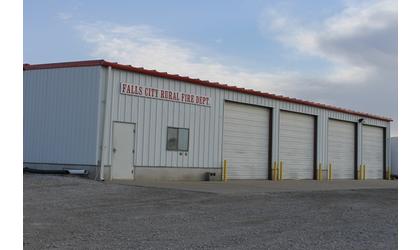 Falls City Rural Fire Department
(KLZA)-- Extremely high.
That was the estimate of damage caused by a Tuesday fire at the Herbster Angus property on the northwest edge of Falls City.
The cause of the fire remains under investigation.
Falls City Rural Fire Department Chief Mike Ramsey called damage to the three-sided shed extensive. He estimated 2,200 large square bales of hay, a Case front-end loader andother equipment were destroyed by the fire
which was reported around 8 Tuesday morning.
Firefighters from the Falls City Rural Fire Department, Falls City Volunteer Fire
Department, and the Verdon Volunteer Fire Department responded to the mutual-aid call. The Verdon Department brought a tanker truck and Brewer Farms also provided a tanker.
Ramsey thanked all those responding to the call to battle the blaze and providing
equipment. Member of the Falls City Rural Fire Department remained on the scene until 4:30 Tuesday afternoon. It is likely the hay in the building will continue to smolder for several days.
Fire fighters were able to help remove trailer and a skid loader from the shed.
The Richardson County Sheriff's Office also responded to the fire call and directed
traffic in the area.