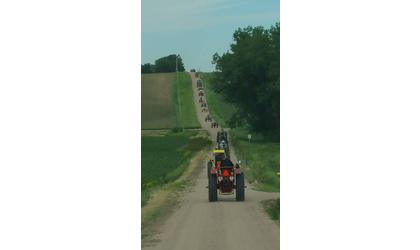 (KLZA)-- The 8th Annual Tractor Relay Across Nebraska is rolling across Southeast Nebraska this week.
40 -50 antique tractors are expected to pass through the area Thursday through Saturday.
Friday morning the tractors leave Syracuse at 8:30 and should arrive in Talmage around 10 for a break. From Talmage the tractors head for Coryell Park in Nemaha County for a noon meal. They will then proceed to Brownville.
Saturday is the last day of the the annual event with the tractors headed out of Brownville at 8:30 A.M. headed for Indian Cave State Park for a drive through the park and a fish fry.
During the stop at Indian Cave, the tractors will be on display from 12:30 – 3:30 and a presentation of donations for Operation Comfort Warriors will be made.
At 3:00 P.M., the tractors head out on the final leg of this years journey. The Richardson County Historical Museum in Falls City will host an ice cream social for the drivers at 4:30 and again the tractors will be on display before they are loaded up and hauled home.