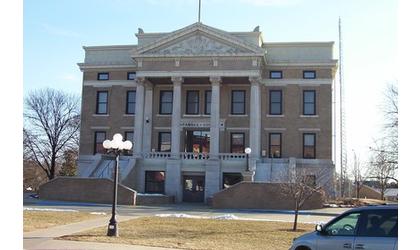 Pawnee County Courthouse
(KLZA)-- Pawnee County Commissioners discussed the possibility of renovating the restrooms on the third floor of the Pawnee County Courthouse when they met last week.
Building and Grounds supervisor Mark Tegtmeier is to have the tile tested for asbestos and then discuss the results with the Board before a decision is made on the renovations.
Highway Superintendent Chris Rauner met with the Board discussing various projects. Following the discussion Commissioners approved an Interlocal Agreement between Gage County and Pawnee County for a bridge replacement project. Pawnee County will be responsible for half of the preliminary engineering and material costs totaling $16,700.
Gage County will also pay all of the right-of-way costs, the utility relocation costs and the construction costs.