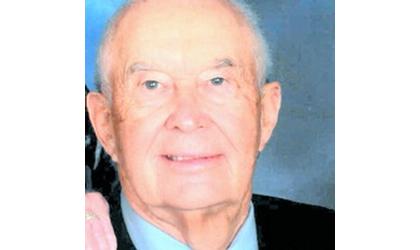 Irvin " Doc" Schwalm ( Credit: Chapel Oaks Funeral Home)
(KNZA)--A longtime Hiawatha veterinarian is being remembered.
Irvin " Doc" Schwalm died last Thursday at the age of 89.
Dr. Schwalm worked at the Brown County Animal Clinic for many years.
He started his long and successful career as a well respected veterinarian, first in Palmyra, Missouri for two years before moving his young family to Hiawatha in 1959. Schwalm officially retired in 2010.
He served on the Hiawatha Community Hospital Board, Hiawatha School Board, and the Hiawatha City Commission.
A private family graveside service will be held Wednesday.
Among survivors are his wife of 70 years, Cleta, along with four children.