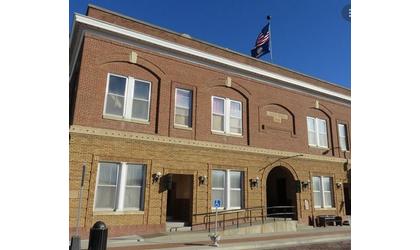 Seneca City Hall
(KMZA)--The Seneca City Council has approved an ordinance amending the city zoning code to prohibit commercial /utility grade wind turbines within the city's zoning jurisdiction.
The action came on an unanimous vote Wednesday evening after the Council held an executive session with City Attorney Martin Mishler for attorney-client privilege to discuss legal questions.
The Council had tabled action on the ordinance at their August 3 meeting to allow a review of information presented by rural Seneca resident Laurie Schmelzle during the public comment portion of the meeting and to seek input from Mishler.
The amendment to the zoning code was recommended by the city Planning Commission following a public hearing held on July 21.
The ordinance will take effect after its publication in the Seneca newspaper.
Currently, wind energy systems are permitted as a conditional use in areas with a transitional Ag zoning classification.
The change was proposed based on input from the city's FlashVote public surveys.