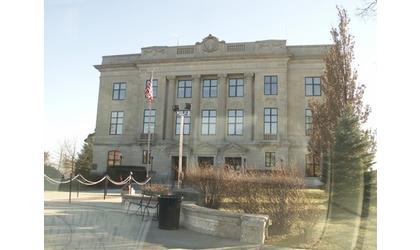 Brown County Courthouse
(KNZA)--Hiawatha City officials met with the Brown County Commission on Monday to discuss the dispatch agreement between the city and county.
Meeting with commissioners were Mayor Bill Collins, City Administrator Mike Nichols and City Attorney Andy Delaney. Also on hand for the discussion was Sheriff John Merchant.
In 2017, the existing county commission agreed to suspend the payment the city had been providing for dispatch services since 1990. In lieu of that payment, the city agreed to provide in-kind services, with the savings to be used for law enforcement purposes.
Delaney said the savings were used to fund an additional officer, allowing the city to provide 24-hour police coverage.
Merchant said he needs to come up with a way to fund raises for employees after this year. He said the raises are needed to retain employees. Merchant said he would like the city to put funding toward dispatch services in order to keep quality employees in his department.
County Commission Chairman Rich Lehmkuhl said counties are charging city's for providing dispatch services.
Commissioner Bill Pollock said he believes the city should help pay for dispatch services.
Nichols said he feels city residents already pay for dispatch services through taxes.
No action was taken. Additional information will be gathered and discussions will continue.