Updated: Train derails near Reserve
07/08/2020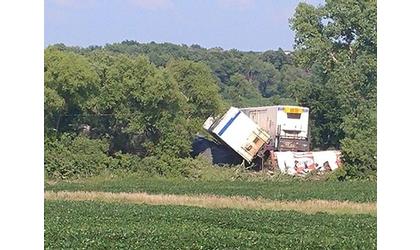 (Submitted photo by Tim Nuzum)
(KNZA)--Twelve cars of a Union Pacific train derailed near the Brown County community of Reserve Wednesday afternoon.
Union Pacific Spokeswoman Raquel Espinoza told MSC News that the train was northbound when the cars derailed shortly after 3:00.
Among those responding were the Brown County Sheriff's Office and Hiawatha Fire Department.
No injuries were reported.
Espinoza said the train was carrying mixed freight--including grain and petroleum.
She said none of the product spilled. However, there was an apparent small leak from one of the cars.
Union Pacific dispatched heavy equipment to the scene Wednesday afternoon to begin the cleanup process, and crews were to work through the night. They remained on the scene Thursday morning. It was not known how long it might take to reopen the tracks.
The cause of the derailment remains under investigation. Espinoza said they will look at several factors, including whether the heat might have caused any movement of the rails.
( Photo credit: Brown Co Sheriff's Office)

© Many Signals Communcations
You will need to be logged in to leave a comment.
Please Login The posting of advertisements, profanity, or personal attacks is prohibited.
Click here to review our Terms of Use.