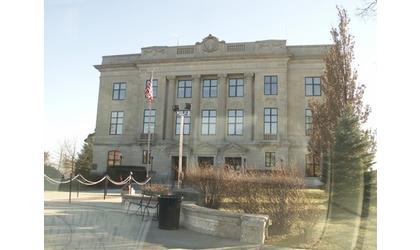 Brown County Courthouse
(KNZA)--The Brown County Commission Monday opted out of the governor's mask order, instead unanimously approving a resolution strongly recommending residents wear face masks in public.
In approving the resolution, the Commission noted COVID-19 cases remain low in the the county and enforcement of the governor's executive order would be difficult to accomplish and place a strain on county law enforcement.
The Commission took the action on the recommendation of County Health Officer Chastity Schumann and after receiving input from Hiawatha Community Hospital CEO John Broberg.
Schumann said out of 665 tests conducted to date, there have been 15 positive cases of COVID-19 in Brown County. 14 of those individuals have recovered. The latest positive case was reported over the weekend.
Schumann said the neighboring counties of Doniphan, Jackson and Nemaha are also strongly encouraging residents to wear masks in public, but not requiring them.
She said local businesses may mandate the wearing of facial coverings if they see fit. Such businesses are asked to post a sign on their window or front door.
Besides wearing a mask, Schumann also encourages residents to social distance and practice good hand hygiene.
Governor Kelly issued her executive order last Thursday mandating the wearing of masks in any public space where social distancing of six feet cannot be maintained due to an increase of coronavirus cases in the state. However, counties can approve less restrictive orders.