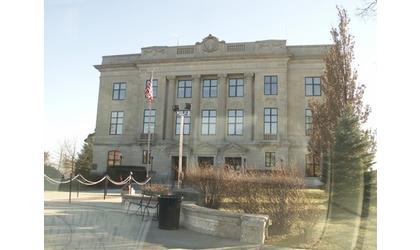 Brown County Courthouse
(KNZA)--The Brown County Commission on Monday was updated on local COVID-19 testing and supplies for healthcare workers.
Chastity Schumann, with Northeast Kansas Multi-County Health, and County Emergency Management Director, Don Pounds, met with the Commission through video conference.
Schumann said 25 virus tests have been conducted so far in Brown County, with eight still pending. At the current time, there are no confirmed cases in the county.
Pounds said he was disappointed with the supplies the county has received from the federal government.
He said he was told to expect four to five pallets of supplies, but was only delivered one pallet. Pounds said there is a shortage of gloves, with the pallet only containing one box of gloves.
In other business, Hiawatha Foundation for Economic Development Director Mikaela Moore met with the Commission through conference call to discuss the micro-loan program. Last month, HFED offered funding through the program to help small businesses in the county who have suffered economic injury due to the COVID-19 pandemic.
Moore told Commissioners she sent out seven applications. She reviewed with the Commission an application she said met all of the necessary requirements.
The Commission voted to accept a micro-loan application from Paper Eaters, of Hiawatha, for $12,500 with a term of three years at a one percent interest rate. The first payment will be deferred for four months.