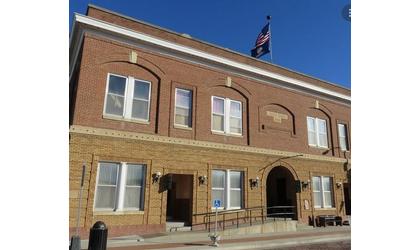 Seneca City Hall
(KMZA)--There's a vacancy on the Seneca City Council.
The City Council Wednesday evening accepted the resignation of longtime 2nd Ward Councilwoman Alice Lackey, which was effective September 21.
Lackey read her letter of resignation at the end of the meeting. No reason was stated for the resignation.
Lackey initially served on the Council from April 16, 1997 to April 20, 2005. She then served on the Council from April 17, 2013 to September 21, 2023.
The City is asking any resident who resides in Ward 2 interested in filling Lackey's unexpired term to fill out a council interest form at City Hall by 4:00 p.m. October 3, 2023.
Following an executive session, the Council voted to hire Tracy Rusche as assistant city clerk for $20 an hour beginning October 9th. The Council also voted to hire Andrea Beyer to fill the new position of community development director. She will paid $19 an hour and begin work October 16.
In other business, the Council approved an ordinance rezoning property in the Fairway Addition where the Northridge Church is building a new church. The City Planning Commission recommended the zoning change from commercial to residential, which was requested by the church.
The Council also accepted the lone bid from BAR Excavating, of Baileyville in the amount of $9,115 to demolish a house located at 213 North 1st Street. The house is being demolished to make room for a new water treatment plant.