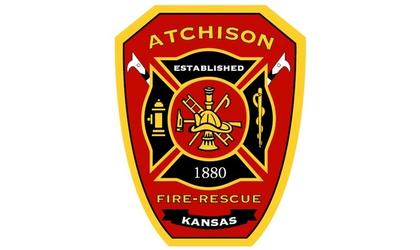 (KAIR)--A late Tuesday morning Atchison apartment fire caused no injuries, with all occupants of the two story, 3-unit structure, evacuated safely.
That's according to a release from Atchison Fire Chief Patrick Weishaar, who says fire fighters were called to North 6th and Parallel Street, around 10:52 in the morning, and found heavy smoke and flames coming from the second story, upon arrival.
Realizing that the first floor occupants had made their way to safety, and with the second floor found unoccupied, firefighters went to work and quickly extinguished the fire, but not before it had extended into the attic.
Utilizing the Fire Department's Aerial/Ladder truck, firefighters "were able to gain access to the fire through an attic ventilation port on the opposite side of the fire and extinguish the fire that had found its way into the attic."
Firefighters remained on the scene well into Tuesday, performing salvage and overhaul operations, with the department's investigator interviewing the tenants as part of the investigation into the cause of the fire.
The Atchison Police Department, the Atchison County Sheriff's Office, Atchison County EMS, and the City of Atchison Public Works all assisted at the scene.
The Atchison Salvation Army also assisted, working with the displaced tenants to make arrangements until the damage, repairs, and cleaning can be assessed.