County agrees to reinstate economic development funding
09/19/2023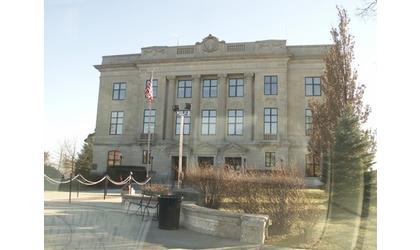 Brown County Courthouse
(KNZA)--The Brown County Commission adopted a 2024 county budget Monday after agreeing to reinstate funding for economic development.
The action came on a 2-1 vote, with the $50,000 in funding for economic development to come from the commissioner's budget. Commission Chairman Bill Pollock casting the lone dissenting vote.
A large group appeared during a hearing on the budget to urge commissioners to reconsider their decision to cut economic development funding from the budget--including representatives of Hiawatha's and Horton's economic development organizations, city and business leaders. They spoke about the benefit economic development provides to the county and impact the funding cut would have.
In an effort to reduce the proposed property tax levy, the commission voted last month to cut more than $300,000 in funding from the budget--including the $50,000 that had been earmarked for economic development.
That came after a group of county residents urged commissioners to take steps to reduce the 4.6 mill levy increase contained in the original proposed budget.
The revised budget adopted Monday calls for nearly $13.5 million in total expenditures and a property tax levy increase of nearly 3.3 mills. It contains an estimated tax rate of 35.173 mills, which is anticipated to raise more than $8 million in local tax revenue.
© Many Signals Communications
You will need to be logged in to leave a comment.
Please Login The posting of advertisements, profanity, or personal attacks is prohibited.
Click here to review our Terms of Use.