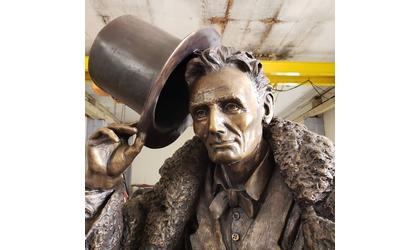 Statue of Abraham Lincoln, cast by former Atchison resident Aleda Haug, will be placed near the Atchison County Courthouse in June. (Credit: Atchison Co Historical Society/Facebook)
(KAIR)--The 16th President of the United States is set for a return visit to Atchison, this time in statue form, as a long-planned goal to place the likeness of Abraham Lincoln at the Atchison County Courthouse is coming to reality.
According to a social media post made to the Atchison County Historical Society- Facebook Page on May 16, "the long awaited [Abraham] Lincoln Statue has been delivered to Atchison," with the post adding that "the base is being readied for its final resting place near the courthouse."
The project was not conceived by the historical society, but whose role it was, as a non-profit organization, to hold the funds on behalf of the Courtney S. Turner Trust, which is funding the statue, sculpted by former Atchison resident Aleda Haug. That's according to Lincoln Task Force Chair, and County Commissioner, Dr. Allen Reavis, who says the County's approval has been granted for placement of the statue on the Atchison County Courthouse grounds. He calls Haug- work "a wonderful contribution of Art and History to our community."
According to Rick Berger, member of the Turner Trust Advisory Committee, the idea for the bronze statue has been in the works for a decade, with Haug, in 2013, asking the committee to fund the casting for the bronze, in return for her donating her skills to create the statue. The request came shortly after the unveiling of her first public art piece, the statue of Deafy Boular, at 4th and Commercial Streets.
A number of individuals and organizations are involved with the final steps of the process, including the Atchison Art Association and Byrd Memorial Company.
The statue commemorates Lincoln's only visit to Kansas in late November/early December, 1859. That trip, which also included stops in Elwood and Leavenworth, brought Lincoln to Atchison, where, according to the Kansas Historical Society, he spoke on the evening of December 2 for more than 2-hours, in the auditorium of the Methodist Church, which, records show, once stood across from the Courthouse. The statue of Lincoln will be placed to face toward the location of the former church.
During his brief visit to Kansas, the state Historical Society says Lincoln condemned the institution of slavery during the speeches he delivered. That history connects to the approaching Juneteenth celebration, with events planned June 9, 10, and 11. With that local organization also involved with the statue initiative, the plan is to place the statue on the courthouse lawn as part of the Juneteenth weekend.
An exact time is not immediately finalized, but preliminary planning could see the statue put in place that Friday evening, June 9th. However, the official time of the ceremony is forthcoming, and will be announced in the near future.