Hiawatha has new city logo
05/25/2023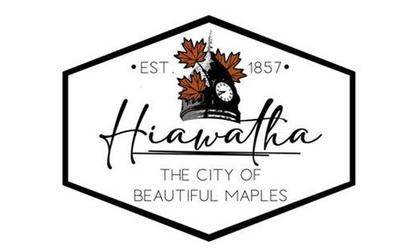 New Hiawatha city logo designed by Jesslyn Gullickson
(KNZA)--Hiawatha has a new city logo.
Acting City Clerk Megan Green announced at Monday evening's Hiawatha City Commission meeting that Jesslyn Gullickson was the winner of the city's logo design contest, with her logo favored by those voting in an on-line poll.
This spring, the city engaged local artists to come up with a fresh new logo for the city. 14 submissions were received. City hall staff then narrowed them down to 3.
The Commission decided at their May 8 meeting to let residents vote on their favorite logo. A poll was posted on the Hiawatha Happenings Facebook page, with voting closing on May 19.
As the logo design contest winner, Gullickson received $150 in Chamber bucks and a certificate.
She graduated from Highland Community College with a Art degree. Jesslyn and her husband, Dustin, have lived in Hiawatha for about 10 years.
In other business, Hiawatha Baseball and Softball Club President Troy Kolb appeared before the commission to request that a lease agreement be drawn up with the city for the grounds of the proposed softball field at Noble Park.
Kolb said the club would like to move forward with a lease much like the one created for the recently completed indoor practice facility that was phase one of the Hiawatha Championship Sports Complex project.
It was the consensus of the commission that Kolb work with City Attorney Andy Delaney on developing a lease agreement to bring back to the commission for approval.
© Many Signals Communications
You will need to be logged in to leave a comment.
Please Login The posting of advertisements, profanity, or personal attacks is prohibited.
Click here to review our Terms of Use.