Flee attempts sends Atchison man to prison
05/24/2023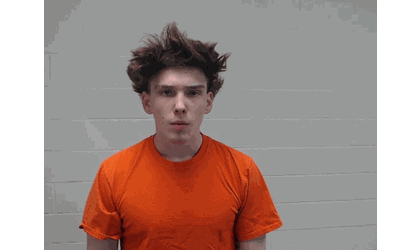 Colton Cornett/Credit: Atchison Co Sheriff
(KAIR)--An 18-year-old Atchison man is going to prison, sentenced this week in Atchison County District Court for fleeing from law enforcement earlier this year.
According to a release from Atchison County Attorney Sherri Becker, Colton Cornett was sentenced to 1-year-4-months of incarceration Monday, following his no contest plea, entered in April, to the charge of fleeing or eluding a law enforcement officer.
According to the release, the charge stems from Cornett's failure to stop, on March 1, when law enforcement attempted to pull his vehicle over in the area of U.S. Highway 59 and 254th Road. Cornett, the release says, led law enforcement on a chase, with Cornett speeding, passing in a no passing zone, and running a stop sign.
A Kansas Highway Patrol Trooper deployed stop sticks in the area of the highway and Ottawa Road, with Cornett's vehicle hitting the sticks but continuing eastbound through a yard and then onto 262nd Road. It was there, the release says, a second Trooper used their KHP vehicle to execute a tactical maneuver that brought Cornett's vehicle to a stop, just north of U.S. Highway 73 and 262nd Road.
He was then arrested, and charged in Atchison County District Court.
According to Becker's release, Cornett, in May, argued for probation, but the Court agreed with the State's argument that prison should be imposed, leading to this week's 16-month sentence.
The Atchison County Sheriff's Office investigated the case.
© Many Signals Communications
You will need to be logged in to leave a comment.
Please Login The posting of advertisements, profanity, or personal attacks is prohibited.
Click here to review our Terms of Use.