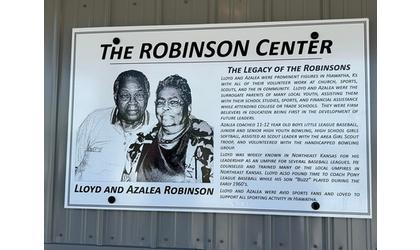 ( Credit: MSC News)
(KNZA)--A dedication and ribbon cutting ceremony was held Saturday morning for the new indoor practice facility at Hiawatha's Noble Park.
The facility, now known as "The Robinson Center", was dedicated in memory of Lloyd and Azalea Robinson.
The Robinsons were prominent figures in Hiawatha because of all their volunteer work, contributing many hours of time to youth sports, Scouting and church.
Hiawatha Baseball and Softball Club board member Keith Erdley said many donors to the building project requested some sort of recognition be given to the Robinsons because of their contributions to sports in the community. After researching and speaking to the Robinson's children, Erdley said the board believed that Lloyd and Azalea's life perfectly fit the goals of the group and their project.
Among those on hand for the dedication ceremony were members of Robinson family, along with community members, city and Chamber officials, and HBSC board members.
The facility is the 1st phase of three-phase Hiawatha Championship Sports Complex project spearheaded by the HBSC. HBSC Board President Troy Kolb said the building is completely paid off and operational.
Meanwhile, plans are being made for phase 2, the construction of a softball field. That's to be followed by phase 3, renovations to the existing Paul Rockey Field.