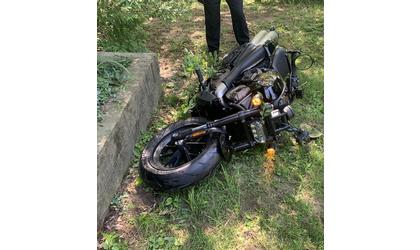 Credit: Atchison Police
(KAIR)--A late Sunday afternoon motorcycle crash, at 17th and Commercial Streets, in Atchison, sent an Atchison man to the hospital.
According to a release from Atchison Police Chief Mike Wilson, 46-year-old Clayton Greenly had been southbound on 17th Street, riding a Harley Davidson Sportster, turning east onto Commercial Street. As went to make the turn, Wilson says Greenly lost control of the motorcycle which left the roadway and "ended up on its side in a yard on the southeast corner of the intersection.
Greenly was transported from the scene, by Atchison County EMS, and taken for hospital examination.
According to Wilson, the residential property where the crash happened incurred no damage, while that to the motorcycle was minimal.
The wreck happened around 4:40 Sunday afternoon.