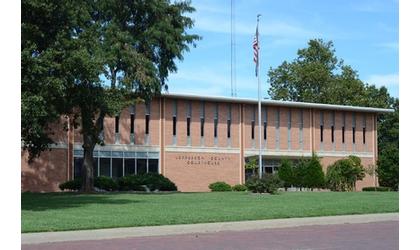 The Jefferson County, KS Courthouse/Credit: Facebook
(KAIR)--A Perry resident is hopeful in seeing a long-closed Jefferson County Bridge replaced.
The bridge in question, according to the unofficial minutes of this week- meeting of the Jefferson County Commission, stands on the west side of Perry, but was closed by County Commission resolution in 2013.
Now, Susan Alexander is spearheading an effort to see the bridge replaced, and reopened.
During the Commission meeting, Alexander explained that she is hopeful that money from bi-partisan infrastructure grants could be used for the bridge- replacement.
According to the meeting- minutes, Alexander presented petitions and documents, from various community agencies, to the Commission, with those who agencies in support of seeing the bridge replaced.
Following some discussion regarding grant applications, no action was taken on the request, with the matter to likely be addressed further in the future.