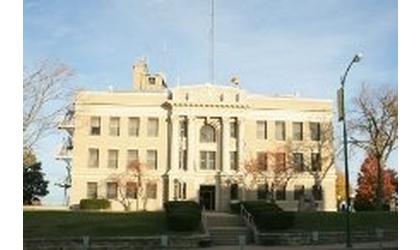 (KLZA)-- Richardson County Commissioners met with Dave Manes with Skyline Construction during their Jan. 31 meeting regarding the bid presented earlier for replacing the roof of the Courthouse.
Manes presented recommendations he would like sent to the architects to consider including replacing some materials that were listed to be used in bid specifications.
Commissioners approved awarding the bid for the roof replacement project by Skyline Construction for the bid price of $178,850 and to approve the alternate bid for painting of the fire escape for $47,600.
The Board voted to enter into a Memorandum of Understanding with the State of Nebraska Administration Office of the Courts and Probation to facilitate transfer of audio-visual components, equipment, or full systems to be used in courtrooms in the Richardson County Courthouse.
Commissioner Rick Karas reported that three surplus patrol vehicles and an enclosed trailer were sold on Big Iron Auctions. The Dodge Charger, Pontiac Grand Prix and Dodge Ram pickup along with the trailer sold for a total of $21,694.