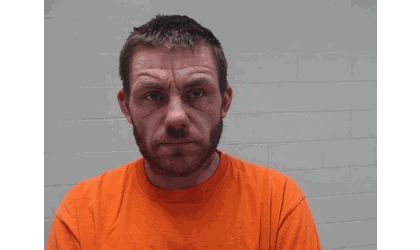 James Gilliland/Credit: Atchison Co Sheriff
(KAIR)--An Atchison residential burglary that occurred last week has led police to who they say was behind the crime.
According to a release from Atchison Police Chief Mike Wilson, 35-year-old James Gilliland was arrested Saturday for burglary and theft.
According to Wilson, the 57-year-old resident of the home, located in the 400 block of North 2nd Street, reported to Police Friday that a burglary had occurred sometime between 6:50 that morning and 12:20 that afternoon.
Reported as missing from the residence were several firearms and several knives.
The investigation that followed receipt of the report led police to Gilliland who was apprehended around 1:30 Saturday morning.
Following his arrest, Gilliland was booked into the Atchison County Jail.
According to Wilson, the stolen firearms and knives have been recovered.
A separate investigation into the theft of a car has partially been solved.
A release from Wilson says that a 1996 Toyota Corolla, reported stolen from the 300 block of North 17th Street on January 31, has been recovered.
According to Wilson, the car was located Saturday in Leavenworth.
No arrests are immediately made.
Anyone with related information should contact Atchison Police at 913-367-4323