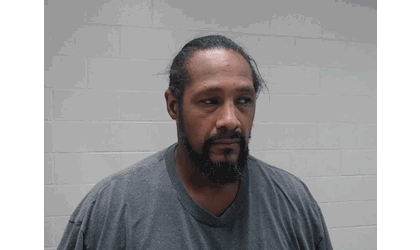 Landon Bain/Credit: Atchison Co Sheriff
(KAIR)--An Atchison man is going to prison, sentenced in connection with a theft-turned handgun discovery in 2022.
According to a release from Atchison County Attorney Sherri Becker, 46-year-old Landon Bain was sentenced last week, in Atchison County District Court, to serve 2-years-7-months behind bars for the crimes, which stem from an August 20, 2022 theft from the Atchison AT&T store.
According to the release, Atchison Police were called to that location when it was reported that Bain had stolen an item from the store.
When Police arrived, they saw Bain enter the passenger side of a vehicle, where he appeared to be shoving an item into the back of the vehicle.
Bain was detained by Police, who located a handgun, and the stolen store item, in the vehicle.
Store employees told Police that while Bain never brandished the weapon in the store, staff members saw it in his pocket and became scared.
Through the use of DNA, the Kansas Bureau of Investigation determined the gun to belong to Bain, who is a convicted felon, with that offense playing into his overall sentencing.
Once the DNA was determined, Bain entered a no contest plea to the charges, leading to Friday- sentencing in Atchison County District Court.