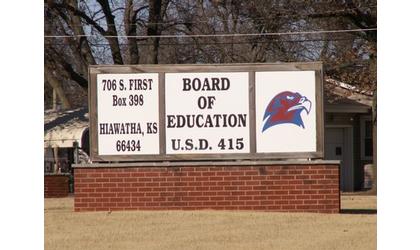 (KNZA)--The Hiawatha School District and Beynon Sports have reached a settlement agreement after four years of issues with the nearly $1 million high school track that was installed new in 2018.
Following an executive session for attorney-client privilege, the Hiawatha School Board in a special meeting Monday evening voted 6-0 to enter into a proposed settlement with Beynon for repair of the track. Board member Amy Kopp was absent. Details on the settlement were not immediately released.
Prior to the vote, Board President Ian Schuetz said he was pleased that an agreement had been reached to repair the track so there is a usable surface.
According to the board meeting minutes, Schuetz said student athletes and patrons have waited a long time to see this and it was unfortunate the district was put in this situation.
He said the board feels they have done all they can and unfortunately are settling for less than what was paid. Schuetz said a settlement had to be made or spend years and thousands of dollars in court before the district had a usable track.
Superintendent Lonnie Moser and Schuetz were designated to sign the agreement on behalf of the the school district.
The school district filed a petition in Brown County District in September against Beynon and negotiations have been ongoing since that time.