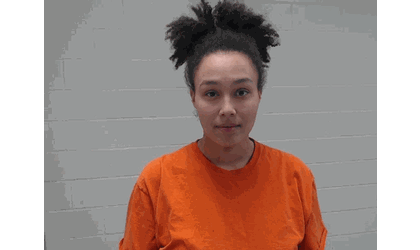 Jetaya Lucero/Credit: Atchison Co Sheriff
(KAIR)--Three arrests are made following the reported theft of firearms from an Atchison residence.
A release from Atchison County Sheriff Jack Laurie says 19-year-old Jetaya Lucero, of Ottawa, Kansas, and two male Atchison juveniles, face charges for burglary, theft, and criminal damage.
Their arrests followed the Monday afternoon report from the occupant of a residence, located in the 7000 block of Rawlins Road, near 274th Road, that the home had been burglarized, with several firearms taken.
According to Laurie, "it appeared that the suspects forced their way in by kicking the door open."
A silver SUV was captured by security camera traveling on the roadway near the burglarized residence and an attempt to locate was issued.
The suspect silver SUV was located by a Kansas Highway Patrol Trooper on U.S. Highway 73, south of the Atchison County line, with the Trooper stopping the vehicle on Millwood Drive, in Leavenworth County.
Atchison County Deputies responded to that location, leading to the recovery of the stolen firearms from the vehicle, and to the arrest of the trio traveling in the SUV.
Following their arrests, Lucero was booked into the Atchison County Jail, while the two juveniles were taken to a juvenile detention facility.