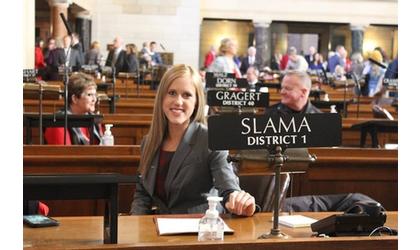 Senator Julie Slama
(KLZA)-- Nebraska 1st District State Senator Julie Slama says in her most recent news letter that LB 212 which she sponsored would allocate funds to the Department of Transportation to construct a continuous four-lane divided highway system from Plattsmouth of the Kansas border.
In addition, the bill would provide funding to pave all remaining unpaved state highways in Nebraska, including 10.04 miles of unpaved highway in Pawnee County and 10.28 miles in Otoe County. In all, there are three highways that are not completely paved in Nebraska, totaling just 39.17 miles. 20.3 miles of unpaved highway lies within the borders of Senate District #1.
Slama notes that U.S. 75 Highway runs a total of 1,239 miles from Dallas, Texas to Kittson County, Minnesota, just south of the U.S. - Canada border.
LB 212, if passed would make Highway 75 from just south of Plattsmouth, south through Nebraska City, Auburn and south to the Kansas border, a four-lane highway.
From 2016 - 2020, US-75 between Plattsmouth and Nebraska City had 10 fatalities and 114 injuries in 222 crashes. There were a dozen fatalities on US-75 from Nebraska City south to the Kansas border during that same time frame along with 144 injuries and 326 crashes.