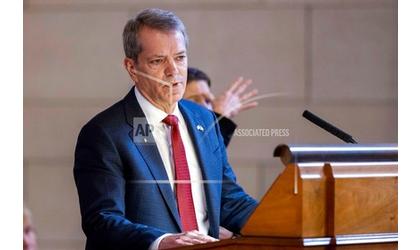 (KLZA)-- Nebraska Gov. Jim Pillen delivered his first State of the State address in the state Capitol on Wednesday, spelling out plans to drastically cut taxes while increasing funding to state schools.
Pillen reiterated his plans announced earlier this month to increase K-12 public education funding by more than $2 billion over the next six years while cutting income and property taxes.
His proposed two-year budget would hold annual growth to just 1.3%, increasing spending by $164.6 million next fiscal year over the current year, and keeping the budget nearly flat the following 2024-25 fiscal year, with a proposed $500,000 increase. Nebraska- annual budget is about $4.5 billion.
The Governor said it is critical for Nebraska lawmakers to take steps to solidify the future for Nebraska. He said what the Legislature does with the current surplus funds, is critical to the future of every Nebraska family.
Pillen also says it is critical for Nebraska to overhaul the state tax policies, noting current policies chase young people as well as retiree's out of the state.
The Governor proposed exempting income tax on social security income in Nebraska by 2024, and reducing the individual and business tax rate to 3.99 percent by 2027 as part of a $1.5 billion tax cut proposal.
Governor Pillen says it is up to the state to fund special education needs, not property tax payers. Pillen is recommending a 3% cap on spending for school districts which could only be overridden by a 75% vote by local school board members or 60% of district voters.
The proposal also includes the state providing $1,500 per student to every public school district in the state.