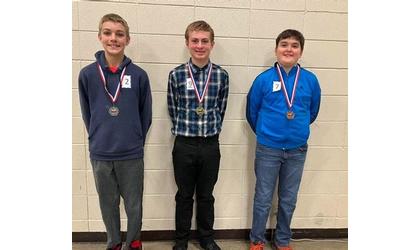 Pictured L-R: Isaac Schmid, Tyler Nolte, Reed Toedman ( submitted)
(KMZA)--A Nemaha Central Middle School 8th grader won the Nemaha County Spelling Bee held this past Saturday in Seneca.
Tyler Nolte took first place by correctly spelling the word " Alhambra". Nolte will advance to the 2023 Regional Spelling Bee, which is to be held March 25 in Wichita.
Taking 2nd place was Sabetha Middle School 8th grader Isaac Scmid and Sabetha Middle School 7th grader Reed Toedman took third place.
Other schools taking part were Centralia and Sts. Peter and Paul, in Seneca.
The event was sponsored by the Alpha Kappa Chapter of Delta Kappa Gamma Society International.