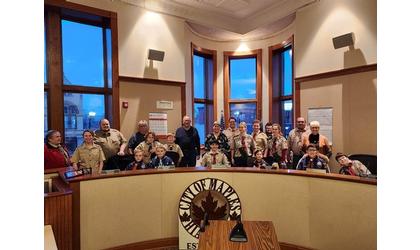 Local Scouts attended Monday's City Commission meeting ( Submitted)
(KNZA)--Special recognition was given to local Scouts during Monday evening's Hiawatha City Commission meeting.
Mayor Becky Shamburg read a proclamation designating February 5-11 as Scouting Anniversary week. On hand were members of Pack 117 and Troop 313, who took a photo with the commission.
Shamburg credited the work the Scouts have done to clean trash, as well as to collect food for the local food bank.
At the request of City Water and Lights Superintendent Brad Scott, the commission approved a bid for the purchase of equipment for the water treatment plant evaporation project in the amount of $53,208, and to seek bids for the electrical service for the project. Scott said the Kansas Department of Health and Environment earlier this month gave the city approval to move forward with the project.
Commissioners approved a resolution setting a hearing for February 27 for property located at 808 Kickapoo Street, which City Code Official Dave Wilson has determined to be unsafe and dangerous. Wilson said the property has been declining for several years. At the hearing, the owner will have an opportunity show why the property shouldn't be condemned and order repaired or demolished.
The Commission approved setting the date of the city's annual fireworks display for July 3 and to award the bid for the display to Rainbow Fireworks in the amount of $14,500.
Also the commission awarded the bid for the landscaping and care of the downtown planters to Wolf River Nursery for $6,014. It was among two bids received.