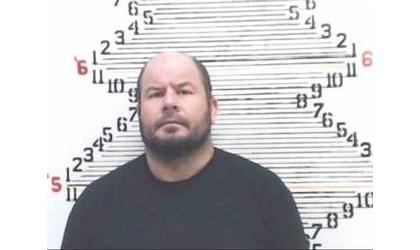 Travis Rusche ( Credit: Brown Co Sheriff's Office)
(KNZA)--A Brown County traffic stop over the weekend led to the arrest of two—including a Nebraska man on multiple drug charges—and seizure of suspected methamphetamine.
According to a release from Brown County Sheriff John Merchant, a sheriff's deputy initiated a traffic stop on a vehicle in Hiawatha shortly after 1:20 Saturday morning for failing to turn on their headlights while driving.
The driver, 39-year-old Elizabeth Rose, of Hiawatha, was arrested on charge of driving while license canceled, suspended or revoked.
The passenger, 39-year-old Travis Rusche, of Humboldt, Nebraska, was arrested on suspicion of possession of meth, possession of drug paraphernalia, possession with intent to distribute, no drug tax stamp, and a $15,000 Nemaha County probation violation warrant.
Merchant said about 30 grams of suspected methamphetamine was seized by the deputy.
Following their arrest, Rusche and Rose were booked into the Brown County Jail.