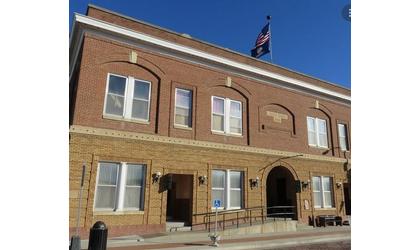 Seneca City Hall
(KMZA)--A bid has been awarded for the reconstruction of four blocks of Main Street in Seneca, from 7th to 11th Streets.
The Seneca City Council voted last week to award the contract to AHRS Construction, of Bern, in the total amount of $1,406,635.
That includes a base bid of $929,671 for removal of the existing brick and pavement surface and replacing it with a concrete surface, along with new curb and gutter. In addition, it includes alternate bids for replacement of the sidewalks, storm sewers and streetlights in the project area.
The total amount for the items approved by the Council was nearly $268,000 under the engineer's estimate.
Bids were opened January 10th from three companies.
Construction is to start in early spring. Once the contractor has been issued a notice to proceed, the work must be substantially complete within 150 working days with final completion within 180 days.
Sales tax reserves will be used to fund the project.