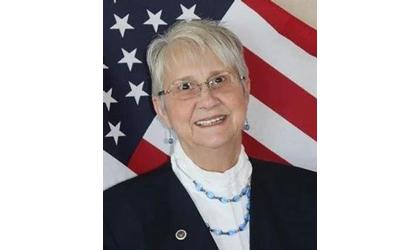 Toni Hull ( Credit: city of Hiawatha)
(KNZA)--A vacancy has been filled on the Hiawatha City Commission.
In a special meeting Thursday evening, former city commissioner Toni Hull was appointed to fill the position of Commissioner of Streets and Parks that had been held by Mayor Becky Shamburg.
City Attorney Andy Delaney cast the deciding vote in determining who should fill the position after two tie votes.
Hull, who previously served as Commissioner of Utilities for 7 years, was among five candidates seeking to fill the vacancy. The other candidates included Kevin Kneisley, Tom Martin, Bob Rahe and Laura Tollefson.
All five were given an opportunity to address commissioners on why they would like to fill the open spot.
After hearing from the five candidates, a motion by Shamburg to appoint Hull to the position ended in a 2-2 tie vote. Commissioner David Middendorf joined Shamburg in voting for the motion, while Commissioners Brian Shefferd and Evans Woehlecke cast the dissenting votes. Shamburg cited Hull's experience in making her motion.
Shefferd said he felt Tollefson and Martin should be considered because they recently ran for a seat on the commission. He then made a motion to appoint Tollefson to the position, which ended in a 2-2 tie vote. Woehlecke joined Shefferd in voting in favor of the motion, while Shamburg and Middendorf voted no.
Shefferd then made a motion to appoint Martin to the position, which failed due to the lack of a second, and a motion to appoint Rahe, which also failed due to the lack of a second. That left the deciding vote to Delaney.
Hull will fill a term expiring in January 2025. The position will be up for election in November 2024.