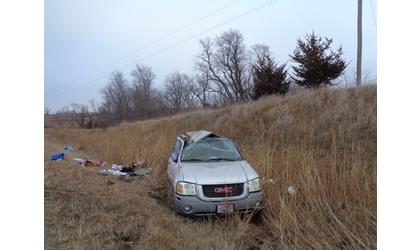 A GMC Envoy, driven in Atchison Co on the morning of January 17, 2023 wrecked and rolled-over, leaving the driver injured. (Credit: Atchison Co Sheriff)
(KAIR)--A Holton woman was transported for hospital care following a single vehicle Atchison County wreck Tuesday.
According to a release from Atchison County Sheriff Jack Laurie, 26-year-old Melissa Dexter was northbound on Bourbon Road, shortly before 7:55 Tuesday morning, when the 2004 GMC Envoy she was driving left the roadway.
According to Laurie, the SUV went onto the shoulder of the road, with Dexter overcorrecting, which "caused the vehicle to rollover at least two times" before it landed upright.
Dexter was transported by Atchison County EMS to the Holton Community Hospital for the treatment of unspecified injuries.
Laurie, in the release, says Dexter was not wearing a seatbelt at the time of the wreck.