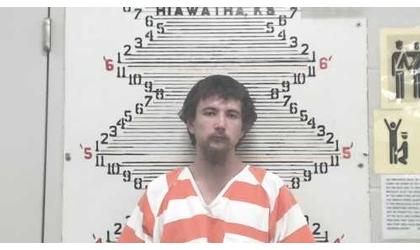 Phillip Doerr ( Credit: Brown Co Sheriff's Office)
(KLZA)- The Kansas Bureau of Investigation says a Falls City, Nebraska man was found dead from an apparent self-inflicted gunshot wound Monday night in Cherokee County, Kansas following a police chase and officer-involved shooting.
The KBI, in a release, said the Cherokee County Sheriff's Office contacted the KBI about 8:30 Monday evening, requesting assistance investigating the shooting.
About 5:20 Monday afternoon, a woman called 911 from a residence in Galena, Kansas, reporting a disturbance where a man was being held at gunpoint by another man. The armed man left the residence in a flatbed truck.
The KBI said at about 5:30 p.m. deputies from the Cherokee County Sheriff's Office spotted the pickup truck. The driver, later identified as 28-year-old Phillip Doerr, of Falls City, did not stop and a short pursuit began.
The truck came to a stop and Doerr exited the truck while allegedly firing a handgun at responding deputies. Multiple rounds from Doerr's gun hit a patrol vehicle. Both deputies returned fire, and Doerr fled into a tree line. Deputies reported hearing a single shot about five minutes later.
A perimeter was established and a drone and aircraft assistance was called to locate the man. At about 8 p.m. Doerr was discovered dead from an apparent self-inflicted gunshot wound to the head.
An autopsy will be conducted, but no other gunshot wounds were evident. No law enforcement officers were injured in the incident.
The KBI says it will conduct an independent investigation into the incident.