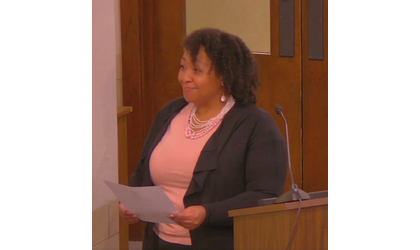 La Rochelle Young was sworn into office as the newest Atchison City Commissioner Monday, December 19. She fills the vacancy created by Dr. Allen Reavis who resigned to serve on the County Commission. (Credit: Facebook/City of Atchison)
(KAIR)--New leadership for the City of Atchison, with a new City Commissioner selected, and installed, Monday.
Chosen through a unanimous vote of the Commission to fill a seat left vacant was La Rochelle Young.
Once selected and sworn in, Young was seated at the Commission table to oversee business during Monday- meeting.
Young will serve out the term of former, longtime City Commissioner Dr. Allen Reavis who was elected in November to serve as 1st District Atchison County Commissioner.