Auburn State Bank makes large contribution to Peru State project
12/06/2022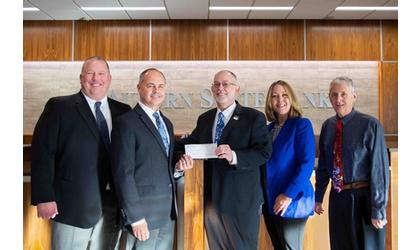 (KLZA)-- Auburn State Bank in Auburn, recently donated $50,000 to Peru State College- Project ROAR Campaign in support of the new facilities. This will help transform Peru State College and Southeast Nebraska with five new buildings.
Auburn State Bank pledge amount will go to the naming rights for a basketball court in the multipurpose dome.
Project ROAR will add more than 104,000 square feet of indoor space to the campus. This more than doubles the square footage of the Peru State- largest building, the Al Wheeler Activity Center. Three of the buildings will be near the baseball and softball fields at the Centennial Complex south of the main campus. The other two will be built on a practice field north of the Oak Bowl stadium. The largest components are large air-supported, artificially turfed domes at each site.
If you are interested in giving a tax-deductible donation, please call the Peru State College Foundation office, 402-872-2304 or email Ted Harshbarger at tharshbarger@peru.edu. Donors will have the option of spreading pledge gifts out through 2025. Peru State College plans to start breaking ground in 2023.
( Pictured with this story are: David Grant, President of Auburn State Bank, Jeff Allgood, Chief Executive Officer, Dr. Michael Evans, President of Peru State College, Kelcie Keeling, Director of Marketing and Communications, and Ted Harshbarger, Interim Executive Director for Peru state College Foundation)
© Many Signals Communications
You will need to be logged in to leave a comment.
Please Login The posting of advertisements, profanity, or personal attacks is prohibited.
Click here to review our Terms of Use.