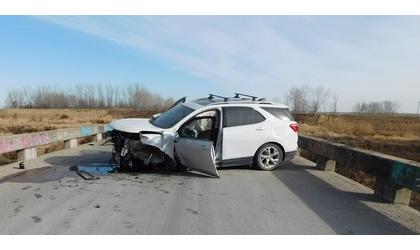 Credit: Atchison Co Sheriff's Office
(KAIR)--An Atchison woman escaped serious injury, despite her vehicle colliding with the Independence Bridge, on Atchison- River Road.
According to a release from Atchison County Sheriff Jack Laurie, his deputies were called to River Road, at the Bridge, shortly after 1:15 Sunday afternoon "for a report of an injury accident with a woman trapped in the vehicle."
Deputies determined that the driver, 23-year-old Destiny Lauck, was driving westbound on River Road, at the levy, when her Chevrolet Equinox went off the ground, causing Lauck to lose control when it landed, sending the vehicle into the bridge.
According to Laurie, Lauck complained of wrist pain but was not transported for hospital treatment.
She was cited for reckless driving and driving too fast for conditions.