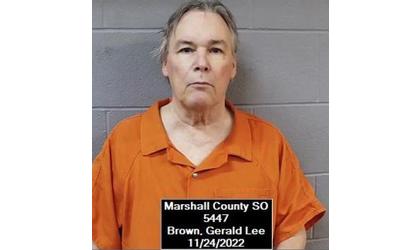 ( Credit: Marshall Co Sheriff's Office)
(KMZA)- A Marysville man has been charged with first-degree murder in the Thanksgiving day shooting death of his wife.
Marshall County Attorney Brad Lippert filed a complaint Monday in Marshall County District Court formally charging 66-year-old Gerald Brown with the felony offense.
Brown made his first appearance in court on the charge. A preliminary hearing was set for December 12.
Authorities responded to a 911 call early November 24 at 1070 Granite Road, in Marysville, were they found 57-year-old Jennifer Brown dead from apparent gunshot wounds. Her husband was taken into custody at the scene.
Brown remains in the Marshall County Jail, held on a one million-dollar bond.