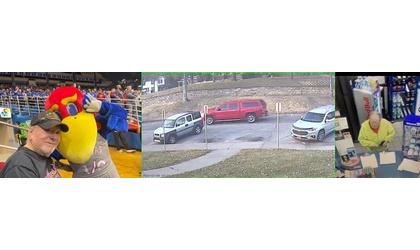 Left:A photograph of 80-year-old Larry Eckert, who disappeared from his Atchison County home Monday. Middle: A photo of Eckert's truck. Right: Eckert, as captured on CCTV in Richmond, Missouri, Tuesday morning. Credit: Atchison Co Sheriff's Office
(KAIR)--A missing Atchison County man, who sparked a Silver Alert Tuesday morning, has been located.
According to a late Tuesday morning release from Atchison County Sheriff Jack Laurie, 80-year-old Lawrence "Larry" Eckert "has been located and is at home with family."
The Silver Alert was issued after Eckert left his home, located on Highway 116, Southeast of Effingham, around 3:00 Monday afternoon, stating that he was going to Nortonville, in Jefferson County.
It was confirmed Tuesday morning that Eckert was in Richmond, Missouri around 6 a.m., where he was given directions to Holton, in Jackson County, via I-70. At that time, Eckert was captured on surveillance footage.
It was only a short time after that information was released, that Eckert was located.