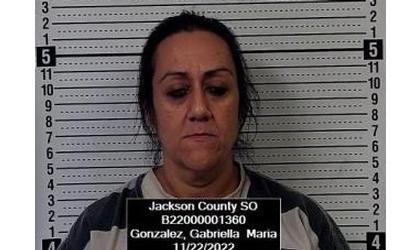 Credit: Jackson Co Sheriff
(KAIR)--An Oklahoma woman, driving in Jackson County earlier this week, is facing charges in connection with the distribution of methamphetamine.
A release from Jackson County Sheriff Tim Morse says 42-year-old Gabriella Gonzales, a resident of Edmond, Oklahoma, was taken into custody on charges including distribution of methamphetamine, possession of cocaine, possession of marijuana, and possession of drug paraphernalia.
Following her arrest, Gonzales was booked into the Jackson County Jail.
According to Morse, her arrest followed a traffic stop late Monday afternoon, on U.S. Highway 75, near 330th Road.
The stop, Morse said, lead to a search of the car and to the discovery of what authorities allege was methamphetamine, cocaine, marijuana, and drug paraphernalia.