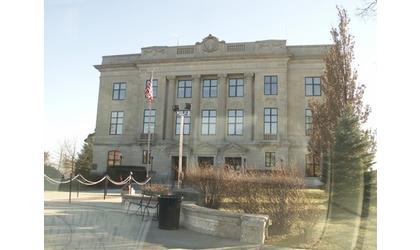 Brown County Courthouse
(KNZA)--The Brown County Commission has been asked to allow the retail sale of packaged cereal malt beverages in unincorporated areas of the county on Sundays.
Sac and Fox Tribal Attorney Chris Halbert and Tribal Council Treasurer Bridgette Robidoux met with the commission Monday to make the request. The tribe wants to sell packaged beer on Sundays at the Sac and Fox Truck Stop on U.S. 75 Highway.
Halbert said a bill passed by the Kansas Legislature last year allows Sunday sales from 9 am to 8 pm, except on Easter.
Commissioners would have to approve a resolution to allow such sales, which would be subject to a protest petition.
Commission Chairman Lamar Shoemaker said he didn't see a problem, but requested time for the commission to review the request.
In other business, County Emergency Management Director Don Pounds met with the commission to request $317,947 in American Rescue Plan Act funds for the purchase of mobile radios for the county fire departments. The commission took the request under advisement. Commissioners will begin considering ARPA funding requests at their October 10 meeting.
The commission accepted a bid from GN Bank for a three-year lease purchase agreement at 3.99 percent interest for the purchase of a 2019 Case backhoe for the county solid waste department. It was among four bids received.