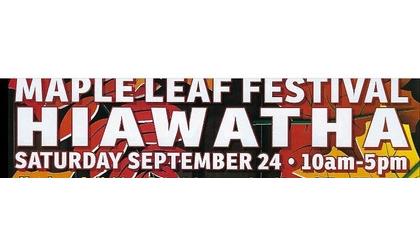 (KNZA)--The annual Maple Leaf Festival will take place Saturday around the Brown County Courthouse Square in downtown Hiawatha.
The festival, which will run 10 to 5, will include vendors, activities, entertainment, a car show and food trucks.
Returning this year to provide musical entertainment are Graceful Grit, the Red Dirt Band, and local artist Nirvana Petersen. New this year to the musical line up is True North, along with local artist Tori Wist.
In addition, there will be children's and adult activities from 11 to 4 --including a rock climbing wall, bouncy houses, leaps and bounds, screamer slide, a mechanical bull and log slammer. A $10 wristband will be available at the festival for the events.
Local magician Barron Stringfellow will perform at at 10:00 and 1:30 The Kansas Children's Discovery Center will be set up on the courthouse lawn from 11 to 2. In addition, expect Spiderman, Elsa and Captain America to make an appearance.
Craft and food vendors will be set up around the courthouse square.
The festival, organized by the Hiawatha Chamber and Visitor's Bureau, is being held in conjunction with the Brown County Historical Society's Heritage Days, which will take at the Ag Museum on East Iowa Street. A trolley will be offering transportation to and from the Ag Museum.
The day will kick-off will the 3nd Annual Glazin' the Streets 5K and Donut Dash Fun Run sponsored by Hiawatha Parks and Recreation.