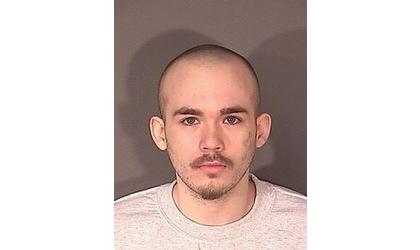 Keldon Reynolds/credit: Ks Dept of Corrections
(KAIR)--A report of shots fired during the early morning of August 19 in Atchison leads to the discovery of gunfire-damaged vehicles and to one arrest.
According to a release from Atchison Police Chief Mike Wilson, Atchison Police Officers were called to the 400 block of North 9th Street, around 1:00 that morning, and determined that multiple shots had been fired.
Four vehicles became the focus of the investigators, with two empty ones having been struck by gunfire while the other two occupied.
The following investigation led to the filing of Atchison County District Court charges against 21-year-old Keldon Reynolds: criminal discharge of a firearm at an occupied vehicle, criminal possession of a firearm by a convicted felon, and two counts of criminal damage to property.
According to Wilson, Reynolds is in custody outside of the local area, held in the Lyon County, Kansas Jail on unrelated charges.
Editor's note: An earlier version of this story listed the incorrect date of the shots fired. It has since been corrected.