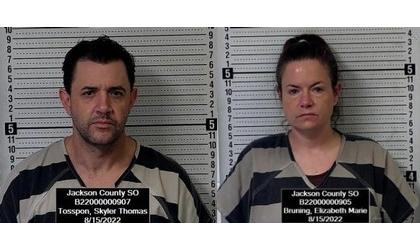 Credit: Jackson Co Sheriff
(KAIR)--Two Brown County residents are facing drug charges in Jackson County, following their arrests earlier this week.
It happened during a traffic stop late Monday morning, with the vehicle stopped near 110th and U.S. Highway 75, around 10:45. According to a release from Jackson County Sheriff Tim Morse, the stop was made after the driver "was identified as having outstanding warrants."
The driver was 40-year-old Skyler Tosspon, of Hiawatha who, according to Morse, had a Jackson County District Court warrant and a Nebraska warrant for drug violations.
Additionally, Tosspon and his passenger, 40-year-old Elizabeth Bruning, of Robinson, were both taken into custody on charges for possession of methamphetamine and drug paraphernalia.
Following their arrests, both were booked into the Jackson County Jail.